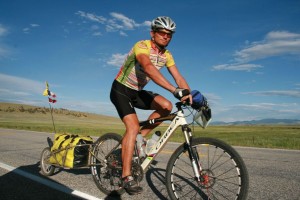 As far as I can remember from all the travels I've done and experiences I had, this one goes in the top 5! When I'm looking back where it started, it makes me smile and remember me how incredible it is to travel and to meet people.
I liked this trail very much because it gave me a total different view of the USA and the people living there. We went through small towns most of the time, places where you wouldn't go and visit if you were coming from Europe for sure. I could appreciate how friendly and helpful the people are. I know now why they have these big pick-up trucks: to pull their huge trailer anywhere in the mountain. The food isn't great and it's not going to change I think, we struggled to find pasta in restaurants all the time. It's really a burger & food chains land, no doubt! But the USA are big, huge, it's a big sky country with amazing landscapes, reason why I came back with more than 1300 photos…

It was my first experience of bike touring and it was better than I thought. The trailer was an easy way to carry the gears, food and drinks. I could ride anywhere with it and got used to it pretty quickly. The maps looked scary when we were looking at them before leaving, sooo many miles! But it's like any bike trip, just keep on biking and you will get somewhere tonight. Mile after mile you're going through the trail and you will make it to the border. And most important was to ride this trail not alone. Sure you can do it but it's very boring! At least I think so. Simon told me one day to go on my own for the rest of the trip because he was too slow, but when I arrived in the next town for the night I was getting bored eating my diner on my own… So I decided to keep riding with him with meeting points during the day.
Questions everyone is wondering: what did you like most? The unknown of the trail with the ever changing scenery. Biking every day on a route you don't know, passing through amazing landscapes and wandering in the evening to find a spot to crash… It was so nice!
What did you dislike then…? I didn't appreciate at all the way Ollie left us. I won't go in the details on this blog.
We started pretty slowly because Ollie wouldn't last long the first days and they were both pushing or taking a loooong time to climb each hill. I could see Simon progress and by the end, he could climb most of the hills. We made it in a pretty good time considering the weight of the trailer and the couple of easy days we did. Depending on the day, I could think that this trail was hard (see post about New-Mexico) but most days were easy. But you need to consider that I'm more a bike racer than a bike tourist ;-)
For this trip I want to thank many persons, starting with the one making the adventure so nice: Shannon & Crystal in Calgary, Ingrid & Rob in Canmore, Matthew Lee, Robin & his wife, Amy & Joe in Boulder, Heike in Silverthorne, Gary & Patti in Del Norte, Kathy in Pie Town. And also my friends in Lausanne: Charles, Philippe, Julien, Nicolas, Tanguy, Jean-Marc, Davide; because without them I wouldn't have enjoy as much my evenings and the scenery while biking. And of course all the people who wrote comments to encourage us, a pleasure to read them each time!
Some statistics about my ride:
Total distance on the bike: 2965.8 mi - 4804.6 km
Total time on the bike: 256 hours

&

44 minutes
Global average speed: 11.55mph - 18.71km/h
Max speed: 55.7mph - 90.2km/h - downhill to Atlantic City
Number of days for the trip: 37 (1 resting day in Jackson Hole and 2 half-days to get there and out of Jackson Hole), so 35 days for the Great Divide Trail itself
Highest pass: 11910ft - 3630m (2h54 to climb it from Del Norte, 7884ft - 2403m)
Longest day: Pie Town -> Rocky Canyon Campground, 137 mi - 220 km, 12h01 on the bike
Temperature: from -1°C to +45°C = from snow to very hot! Yes it snowed in Canada, in Flathead valley
Number of mosquitoes killed while waiting: 1000-2000 (up to 4 at the same time)
Number of burgers: too many for me
Trailer weight (including the trailer itself): from 23kg to 28kg depending on the amount of food

&

drinks
Technical problems: 1.5 flats - explanation: I got one a few miles out of Banff and on the road to Antelope Wells my tubeless tire was leaking too much so I had to put a tube to avoid pumping too many times 40 miles before the border. Fixed 3 times my new chain after Silverthorne,

CO

,  which I shouldn't have carried to avoid damaging it.
Nights

Motel: 6
Hostel: 1
Campground: 9
Hosts / Couchsurfing: 4
Bivouac / Wild camping: 17

US

dollars spent: you don't want to know…
Hard or Easy: Medium - can be done by anyone but think twice about the starting date
Want to do it again: yes!
Wanna race it?: …
And of course, most important, the pictures! There are 182 pictures which for me make a good representation of each day, all have the day number since we started so you don't need to look at all of them at once.