We are still thinking what will be the right way to carry our load of gears needed. We can see 3 possibilities.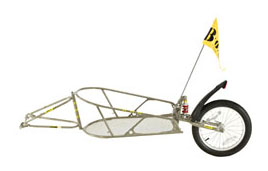 The first one would be to have a trailer like the Bob gear one, Ibex trailer, but it weights almost 8kg on its one. What are the parts which are most likely to brake? How much can you load the bag? Does it stay stable at high speed, is there a speed limit? What about riding in the rain, mud? And last but not least, you need to think about carrying it in the plane on the way back, if it's worth to keep it for another adventure…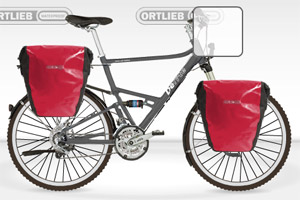 The second alternative would racks on the side of the bike with bags attached to them. Is it easy to ride on a mountain bike with bags in the front and in the back of the bike? Is there any part of the rack what might brake? How would you balance the weight between the front and back bags? How does it feel on a bumpy downhill? Easy to ride at high speed? And I think you cannot have the rack on any bike, you need a aluminum frame with the screw points, and if you have a front fork, you won't be able to put a rack, or am I wrong?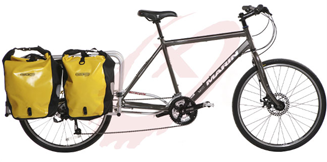 The third would be to have the Xtracycle extension with the adventure kit, to extend the length of the bike and to have the bags only in the back, which should be more easy to ride. Does the extension might brake on a bumpy road? Is the chain of the bike jumping between the gears when riding on a bumpy road since the length of it is much longer? How much weight would you put in the bags? Is the bike still stable at high speed? Did you use it on a carbon frame? With a strong overload, would the extension frame bend or one of the attach will brake? Is it stable at high speed? It weights a bit more than 3kg…
My wish is to buy a bike that I will use as my new racing MTB in Switzerland so it would be a carbon frame with disc brakes… But Simon and Ollie would certainly get a aluminum frame bike. So any special recommendations for a carbon frame bike?
Do you have any experiences about traveling with any of those "styles"? Please leave us a comment, it would be much appreciated!